St Louis PTA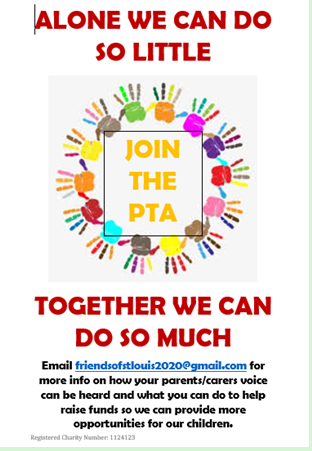 Who are we?
The St Louis PTA is the volunteer fundraising group for St Louis Catholic Academy. Over the years, Friends has raised thousands of pounds which has been spent on improving equipment and resources to enhance our children's education and the facilities in school in general.
But our Friends is about much, much more than just fund raising. We exist to provide closer links between home and school, and it is an excellent way to bring staff, parents and friends together socially in support for the school, working towards a common goal.
We are a registered charity and as such must abide by the charity commission rules and regulations and are bound by a constitution. Our constitution sets out rules about how we operate and how we conduct ourselves.
Registered Charity Number: 1124123
Fundraising Activities
The majority of our funds are raised through events we run, for example, Our Christmas Fair, cake sales, Summer Fair and raffles.
Please join us: friendsofstlouis2020@gmail.com